Ointment and Carrier Oil
from Backdoor Survival .com
It has been a year since I first proposed that you ditch the petroleum jelly in favor of a more natural DIY salve.  At the time, I named the salve I came up with "Plain Ole' Salve".
During the ensuing year, I have turned to this easily made salve over and over again.  Not only is it a superb moisturizer, but because it is fragrance free, it has become the perfect base for all of my many essential oil concoctions.
Making your own Simple Salve is a cinch and it only takes a few minutes using just three ingredients. Here, once again, is the recipe and directions.
How to Make BDS Simple Salve
Those of you familiar with  Miracle Healing Salve already know how to make Simple Salve.  Basically you take the same recipe and leave out the essential oils.  That's it.
But there is more.  You can make a more budget-friendly, colorless and odorless version by using "pure" olive oil instead of extra virgin olive oil.  I actually prefer it.  At the opposite end of the spectrum, you can use a combination of oils, mix and match, such as Jojoba oil, grapeseed oil, avocado oil and more.  The options are limitless.
Backdoor Survival Simple Salve – The Recipe
Ingredients:
1  Cup Coconut Oil
1  Cup Extra Virgin Olive Oil or Pure Olive Oil
5 to 5 1/2 Tbl. Organic Beeswax Pastilles
Containers:
8 x 2 ounce jars (mason jars or ointment jars) ** OR **
4 x 4 ounce jars (mason jars or ointment jars)
Directions:
1.  Put a pot of water on the stove to simmer.  While the water is heating, put the coconut oil, olive oil and beeswax pastilles in a heatproof jar or measuring cup.
2.  Set the jar filled with the coconut oil, olive oil, and wax into the water and leave it there until it melts, giving it a stir from time to time.  You want a slow, gentle melt so take your time.  It could take 15 or 20 minutes depending on the temperature of the water bath.
3.  Pour the melted oils into each of the smaller jars and allow to cool.
4.  Set the jars aside for up to 24 hours.  Although the salve will start to firm up within minutes, it takes at least 12 hours to complete the firming process.  If you are in a hurry, you can refrigerate the salve and it will solidify in just a couple of hours.
5.  Store in a cool location or even in the refrigerator.  The shelf life should be six months but in my home, it does not last that long.
Note:  For a budget friendly version, skip the coconut oil and use two cups of pure olive oil (I use the Kirkland brand).  If you do this, I suggest adding an extra teaspoon of beeswax pastilles.  The therapeutic qualities of coconut oil will be gone but this will still create an amazing salve.
How to use BDS Simple Salve
First and foremost, BDS Simple Salve makes it easy peasy simple to blend essential oils into a custom salve.  By scooping some salve into a small jar (I like these 1/2 ounce jars from Amazon that run about 50 cents each), you can add a few drops of this and a few drops of that to come up with your own healing concoction.
In effect, you are using you homemade Simple Salve as a carrier oil.
There are a few ways to do this.  The first, and the easiest, is to scoop some Simple Salve into the palm of your hand, add a few drops of essential oil, the apply the oil topically.  The second method, as I have described above, is to scoop some into a jar, add your oils, and stir like crazy to mix them up.
The third method, and the one I prefer, is to first melt the Simple Salve in your small container of choice.  After it has reached its melting point, add your essential oils, cap the jar and shake it up to blend.  After blending, take the cap off, and allow the enhanced salve to set up and cool before using.
Note: I use a microwave but you can also place your jar of salve in a hot water bath to melt. As long as you do not overheat the salve and take it just to melting point, you can add your oils right away without harming them.
That is really all there is to it.  After dropping a roller ball filled with precious oils and breaking it to bits, I have begun to use Simple Salve as a base carrier oil instead of fractionated coconut oil.  That is not to say that I don't use FCO for some things, but Simple Salve has become my carrier oil of choice.
The Final Word
With this article, I am renaming Plain Ole' Salve "BDS Simple Salve" or just "Simple Salve".  Simple Salve better describes the this very special blend of oils and also reflects the simplistic nature of this all-natural, all-purpose, salve.
Where do we go from here?  I am glad you asked.
Over the past eighteen months, I have created specialized essential oil salves that I use for blood pressure management, psoriasis, arthritis, charley horses, colds and flu, and common cuts, scrapes, burns and "owies".  Each starts with a base of Simple Salve and while some of these recipes have already been shared, others will be showing up soon.
Why not be ready with a batch of Simple Salve set aside and ready to go?  It really is wonderful stuff!
Enjoy your next adventure through common sense and thoughtful preparation!
Gaye
If you enjoyed this article, consider voting for Backdoor Survival daily at Top Prepper Websites!  In addition, SUBSCRIBE to email updates  and receive a free, downloadable copy of my e-book The Emergency Food Buyer's Guide.
Bargain Bin:  Below you will find links to everything you need to make your own Simple Salve.
Beeswax Organic Pastilles, Yellow, 100% Pure 16 Oz:  I ordered the white pastilles but have since learned that the natural yellow pastilles are better.  That said, the difference may not be discernable – just be sure that what you purchase is cosmetic grade.
Coconut Oil:  Coconut Oil from Tropical Traditions is my preferred coconut oil.  I love it so much I purchased a 5 gallon tub.  Really, I did!  I find it very silky to work with and love the taste when used in cooking.  Note that no refrigeration is required and although it solid at room temperature, it melts at 76 degrees.  The Nutiva brand from Amazon or Costco works well too.
Kirkland Brand "Pure" Olive Oil:  This is the brand I use.  When I can, I purchase it at Costco but it is also available online at Amazon.
White Plastic Jar with Dome Lid 2 Oz (12 Per Bag)
:  I chose to use these small ointment jars rather than Mason jars for my salve.  I also have similar jars in the 1 ounce size and 1/4 ounce size (my favorite for mixing up various salve and essential oil concoctions).
Ball Jar Crystal Jelly Jars: Used with the optional plastic lids, these are perfect for your DIY Simple Salve.
Mason Jar Storage Caps Set of 8
: These are fantastic!  These plastic lids screw onto a mason jar and are perfect in the pantry or to cap you salves.  There is both a regular and a wide mouth version.  I can't believe I have not mentioned these before!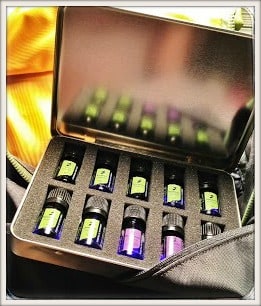 Spark Naturals Essential Oils:  One of my favorite SN products is the "Health and Wellness Kit" which includes all of my favorites plus everything you need to make my custom salves.   Be sure to use the discount code BACKDOORSURVIVAL to receive a 10% discount.
NOW Foods Essential Oils
:  I use essential oils from Spark Naturals.  For healing purposes, I feel they are superior.  On the other hand, NOW Foods has decent essential oils at a budget price from Amazon.  Here are a few to get you started:  NOW Foods Rosemary Oil
, NOW Foods Peppermint Oil and Now Foods Lavender Oil.
Glass Droppers, Pack of 6
: I bought a package of these and loved them.  When I went to re-order, I accidentally ordered plastic instead glass droppers.  Learn from my mistake.  The price is the same go get the glass ones.
Essential Oils Desk Reference 6th Edition:  I thought long and hard before purchasing this book myself, but once I did, I was so grateful I took the leap.  The information is cross referenced in many ways making it easy to find what you are looking for.  When searching for a particular remedy, you may see multiple oils listed and any will work but they are presented in order of typical efficacy.  The nice thing is that if you do not have #1 on hand, you can move down the list.  I have found the recommendations to be spot on.
~~~~~~~~~~~~~~~~~~~~~~~~~~~~